Guide on Internet Censorship Monitoring 15th Malaysia General Election
Guide on Network Censorship Monitoring and Testing of Malaysia's 15th General Election (GE15)
GE15 will be held on 19 November 2022 with Nomination day on 5 November and 15 November set for early voting. 
Malaysians will elect Members of Parliament for the 15th Parliament of Malaysia and also for those in Perak, Pahang, and Perlis, their respective Members of State Legislative Assembly. 
In the last GE14, we reported blocking of Malaysiakini's live voting site: live.undi.info
As part of our efforts to increase the transparency of Internet censorship, Sinar Project will be monitoring internet censorship during this event by collecting evidence of network interference and internet censorship using OONI Probe and OONI Run.
We are focusing on collecting evidence of internet censorship on instant messaging apps and targeted websites that are potentially at risk of censorship, particularly news and media sites, and NGO sites. 
Call to action
Join us in ensuring freedom of expression and access to information are protected on the internet.
Help us to collect evidence of detecting online censorship by following these 2 simple steps:
Install OONI App
Run the tests!
To check and test whether GE15 related sites are blocked:
Click here to test ALL GE15 related sites Click here to test news and media sites Click here to test politicians and political parties sites Click here to test social media sites Click here to test Official Election Commission sites Click here to test Election Monitoring sites 


Note that these links can only be opened on the OONI Probe Mobile App via mobile browsers. They do not work on the OONI Probe Desktop App.
To  check and test whether Instant Messaging apps such as Whatsapp  is blocked:

What happens if you detect network censorship or you suspect your connection is being censored?
Share the data link so we can help verify.
From the test result details, the three dots on the top right (Android), you can share get a copy of the data URL.
DM us on Twitter @sinarproject with the link; OR
Email [email protected] with the link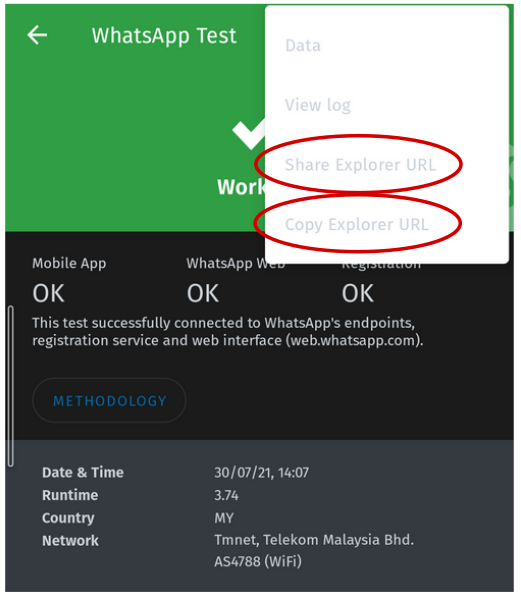 Current list of websites tested
A list of all websites tested is available here.
 There are 62 URLs in total.