Internet Censorship Monitoring 14th Malaysian General Elections
Running Open Observatory for Network Interference (OONI) tests to measure and detect incidences of censorship for Malaysia's 14th General Elections Details
Khairil Yusof <[email protected]>, Sinar Project, 16 May 2018

Key Findings
live.undi.info independent media elections results website run by independent news site MalaysiaKini was blocked for a few hours during key election results announcement period on TMnet and Maxis networks.
Method
In lead up to and on the day of Malaysian elections held on May 9th 2018, Sinar Project identified several selected election related sites (see Appendix)  that would be monitored and tested for possible censorship or interference using Open Observatory for Network Interference (OONI) network tests run through OONI Probe mobile applications.
OONI Probe mobile applications together with OONI Run test urls, provided a way for Malaysian public to help run tests and collect data on specific set of urls through a link published on social media networks. The mobile application can also test and collect data on network interference of instant messaging services such as Whatsapp and Telegram. Special events such elections can be unpredictable, and this method allowed us to quickly publish new urls for public to help run tests to confirm and collect evidence of possible network interference.
Findings
In week leading up to the elections, no incidents of censorship for selected test list was detected through daily tests run by OONI Probe application on TMNet ISP network, as well as test runs of selected websites on mobile app through Run OONI links.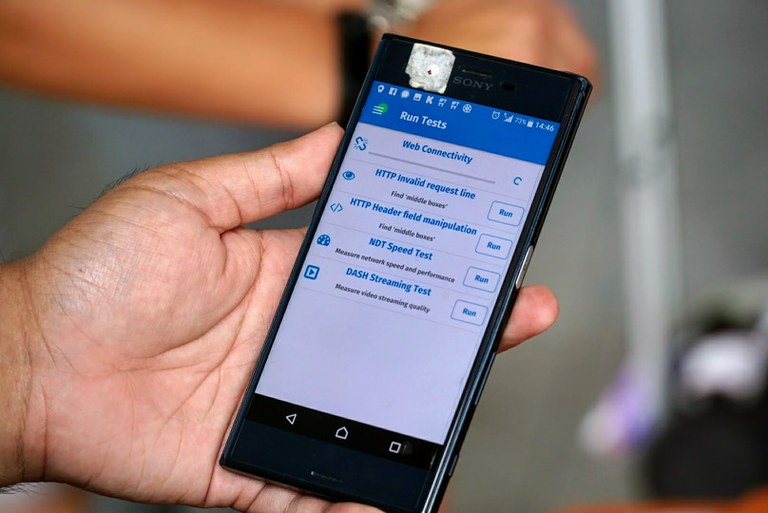 Polling Day
Sites such as Bersih.org, political party websites and official elections page were temporarily inaccessible intermittently on different networks early on the day of polling, but many were due to network timeouts. This seems to indicated either heavy traffic to the websites or other network related issues.
Key sites that would have affected voters, such as official service to check location of assigned polling booths (pengundi.spr.gov.my) was accessible throughout polling day.
Blocking through DNS hijacking of independent election results site
Network interference data by Open Observatory showed that for critical period of #GE14 election result updates in late evening, TMNet & Maxis blocked Malaysiakini's live.undi.info via DNS hijacking. On recorded instances, users on these networks using ISP provided DNS service would be redirected to 175.139.142.25 the ip address used to serve the standard government legal notice that a site has been blocked. While there were reports by the public of screenshots of the notice, for the measurement data collected the tests could only get connection errors from the redirected server.
First measurement detecting censorship event occurred at 9:55pm on TMNet, shortly before official election updates from Elections Commission and other news sources stopped from around 11pm.
This indicated that there was a possible attempt by caretaker government to censor alternative sources of election results such as those reported by independent news media.
Measurements collected for live.undi.info
Conclusion and Recommendations
Collection of test data proving DNS hijacking provided clear evidence of censorship of independent source of election results on two different networks (TMNet and Maxis) during critical period of election results announcements for Malaysian elections. Although this did not affect the eventual delayed official election results which matched the faster updates on the blocked independent results website.
OONI Probe Mobile app and OON Run links is a viable method to collect measurements for a list of specific urls with the assistance of the public on a variety of networks for specific events during a fluid and changing situation such as elections. 
It is recommended that better advocacy and preparation of users for installing and running OONI Probe apps should be done. Ideally workshops could be held with other civil society partners such as independent election monitors and online media companies, to provide a more reliable group of users and wider reach of users ready to run tests from announced tests links. 
Collected OONI data is only publicly available 24-48 hours after tests are run. A method for users to immediately share their measurement results using OONI Probe apps via email or social media would be helpful for coordinating organisations to be able to confirm censorship events immediately. During the period of reported blocking, Malaysian users resorted to sending screen captures of OONI Probe app results to help confirm.
We would like to thank the team from Open Observatory for Network Interference for their support and Malaysians who help install OONI Probe app and help run tests.
Appendix A
Websites selected for testing
Official Election Commission Websites
News and Media
Social Media
Election Monitors
Political Parties and Politicians