State Government Gazettes on Government Document Archives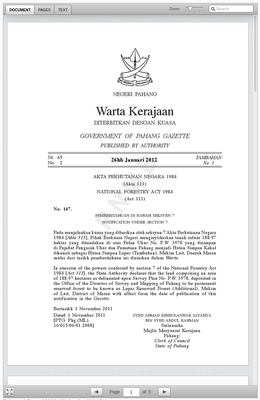 Several thousand State Government Gazettes are now available on Government Document Archives, thanks to the generous contribution by Law Yao Hua (Macaranga Media) with funds from the Pulitzer Center's Rainforest Investigations Network fellowship.
State Government Gazettes are one of the official journals of record, in which certain statutory notices are required to be published. This includes, but not limited to, notices of appointments of public officers, transfers of ownership or changes in land status, bankruptcy and court notices.
The public can now freely search and download this valuable source of government information.
The state government gazettes are available under respective, state government folders on the website.
https://govdocs.sinarproject.org/documents/state-governments
For now they are best accessed by doing a text search. There are future plans to make these documents, more accessible through metadata such as publication dates, legislative acts, as well as features for bulk download and an API for others to build better web and app services.
---
About Malaysian Government Document Archives 
A free public facility by Sinar Project for searchable archive of important Malaysian government documents such as annual reports, speeches and forms that are no longer available online at respective websites or as soft copies.
 
Help keep our services online
If you find our free public services useful, please consider supporting our efforts to maintain and keep them online through funds or in-kind donations
at https://sinarproject.org/donate