Online Accessibility of State Legislative Documents
Proceedings and Enactments by Parliament and State Legislative Assemblies are public documents that are exempt from copyright controls, are not freely accessible online from most state legislative assemblies and must be purchased from a private company.
Key Points: 
Proceedings and Enactments by Parliament and State Legislative Assemblies including State Gazettes are exempt from exclusive copyright controls

Answers from FOI requests indicate, Selangor government does not store physical copies of their own gazettes and are unable to provide it to the public on request

Currently these public documents are available for purchase from Percetakan Nasional Malaysia Berhad (PNMB), a private company, selling access to public information, that should be freely accessible to the public via legislative bodies and public libraries
What are considered primary sources from the government?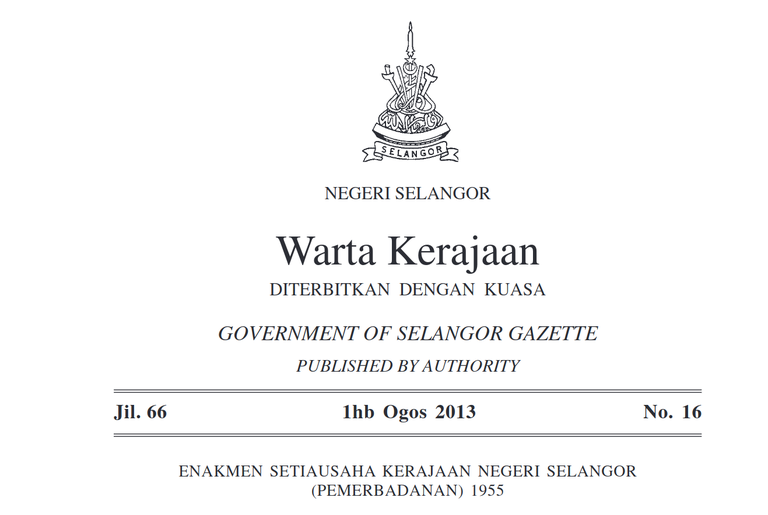 Government Gazettes are the primary source of official journals of records, in which certain statutory notices are required to be published. This includes, but not limited to, notices of appointments of public officers, transfers of ownership or changes in land status, bankruptcy and court notices, laws, decrees, regulations and government decisions.
Where can the public access these documents?
Documents by government and legislative bodies are mostly available physically at the National Library, Kuala Lumpur as publishers including governments are required to provide physical copies under the Deposit of Library Material Act 1986. The Act dictates the National Library shall be the National Depository for the purpose of providing the conservation and use of library material published in Malaysia. Section 4 of the Act requires the publisher of every printed library material to deliver the publication to the library. 
Online availability however is not comprehensive, and many public documents such as State Gazettes are not freely accessible online.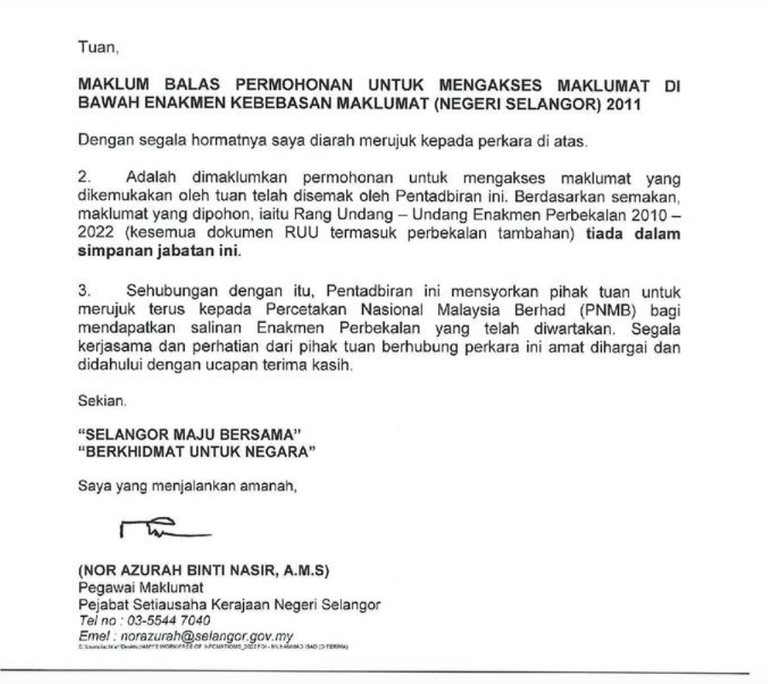 Examples of documents not available include Supply Enactment (Enacted Budget) for States in Malaysia such as Selangor and Penang. A Freedom of Information request to the Selangor State government for access to Supply Enactment for 2010-2022 revealed that the Legislative Assembly did not have local copies, and that the public will need to purchase them from a private company, PNMB.
Gazette publications by the Federal Government however are published on the Attorney General Chambers website, also gazettes by the Sabah government since 2000. State Gazettes are not published online by other state legislative bodies.
IDEAS Malaysia under their Malaysia's Open Budget Index (MyOBI) project assesses the availability of the budget transparency from across Malaysia using global benchmarks adapted from Open Budget Survey. Specific indicators relating to online availability of enacted budgets are also captured – with only Johor, Terengganu, and Perlis having the Supply Enactments published online on state government websites.
Public State Gazettes only accessible via paid service by private company
Exceptions to Copyright Control

13(2) l

Not withstanding subsection (1), the right of control under thatsubsection does not include the right to control any use made of a work by or under the direction or control of the Government, by the National Archives or any State Archives, by the National Library, or any State library, or by such public libraries and educational, scientific or professional institutions as the Minister may by order prescribe, where such use is in the public interest and is compatible with fair practice and the provisions of any regulations, and

    (i) no profit is derived there from;

    and (ii) no admission fee is charged for the performance, showing or playing, if any, to the public of the work thus used;



According to sections 13 (2) (l) and 13 (3) of the Copyrights Act 1987, proceedings and enactments by Parliament and State Legislative Assemblies are not under control of copyright restrictions. Currently these State enactments are only available via purchase with PNMB, currently a private company, selling access to what should be freely accessible and replicable copies of public documents.
Former Bentong MP, Wong Tack asked the question in Parliament to the Home Ministry on the number of subscribers and total payments received by the eGazette Lawnet website by PNMB since its launch. As well as whether the public had the right to free access to these documents.
The Home Ministry answered that they do not have the information on the figures requested as PNMB is a private, non-government entity and the public are able to access Government Gazettes for free from the Attorney General Chambers (AGC) website. It did not provide an answer as to whether the public should have the right to free access to public documents.
Efforts to Make Government Documents Publicly Accessible Online
Sinar Project has initiated Malaysian Government Documents Archives (GovDocs), a free  public facility for searchable archives of important Malaysian government documents such as annual reports, speeches and forms that are no longer available online at respective websites or as soft copies. With public contributions such as Macaranga, Sinar Project has uploaded thousands of State Government Gazettes from the past 20 years.
In certain circumstances, government agencies may also cite documents uploaded to GovDocs as some government documents are no longer available online or the agency publishing it no longer exists, such as Land Public Transport Commission (SPAD).
Sinar Project also developed Tumpang Tanya as an online web service that captures requests for information and answers from government agencies submitted by civil society organisations who share a common interest in promoting, protecting, and defending the right to know.