Uncovering 1MDB with Popit Open Data
How our Popit Database of Politically Exposed Persons helps uncover culprits and hold officials accountable
The recent filing by US Department of Justice and FBI's  Kleptocracy Asset Recovery Initiative to seize 1MDB assets listed in details the companies, people and assets involved in theft of over USD 3 Billion from the Malaysian public. The filing provides a wealth of details that can be added to our Malaysian public  Popit database of  persons, posts held and organizations involved. The filing also did not name certain individuals but instead used reference names but with detailed descriptions of who they are.

For unnamed 1MDB Officer 2, we have clear Popolo spec classes, Organization, Post, and the start and end dates for when a person held those posts. Since we have been continuously adding data related to key government agencies and departments and senior public officials including 1MDB, we should have some of this data to be able to query for who held the post for CEO in 1MDB from 2009 to 2013.
1MDB Officer 2 is  Shahrol Azral Ibrahim Halmi who was the CEO from 2009-02-01 to 2013-03-31 (Source code)
Sources?
For opaque governments, and even more so for corruption scandals, information is hard to come by and one must piece information from different sources. Our Popit API and database services was specifically designed for this environment, and therefore has per field citations so that consumers of the data, can do additional verification on data provided.
Former and current CEOs:
Demystifying who is accountable and which organizations are they involved with
Research by Professor Terence Gomez has shown that government owned investment companies ultimately under the control of the Ministry of Finance through various control mechanisms make up eight out of the 10 largest listed companies in Malaysia by market capitalization and these eight have a combined market cap of a staggering RM452bil. If corruption and theft of billions on the scale of 1MDB is possible, then it is likely that this is happening elsewhere if the people implicated in 1MDB and related companies are also holding management positions at other government bodies.

Popit database features that provides a central database to store consistently data on legislature, government bodies and all PEPs provides us with an important resource to map out with public open data the organizational structures and the relationships of PEPs, whether they be senior public officials, politicians or elected representatives.
Our initial research used Neo4J (source code) but we also built a proof of concept online Popit network relationships explorer to be able to understand these relationships interactively from live data. As we add more data, to the database, more connections can be uncovered. The data can of course also be reused by the public for example to build websites profiling all the people involved displaying the latest data as it is added.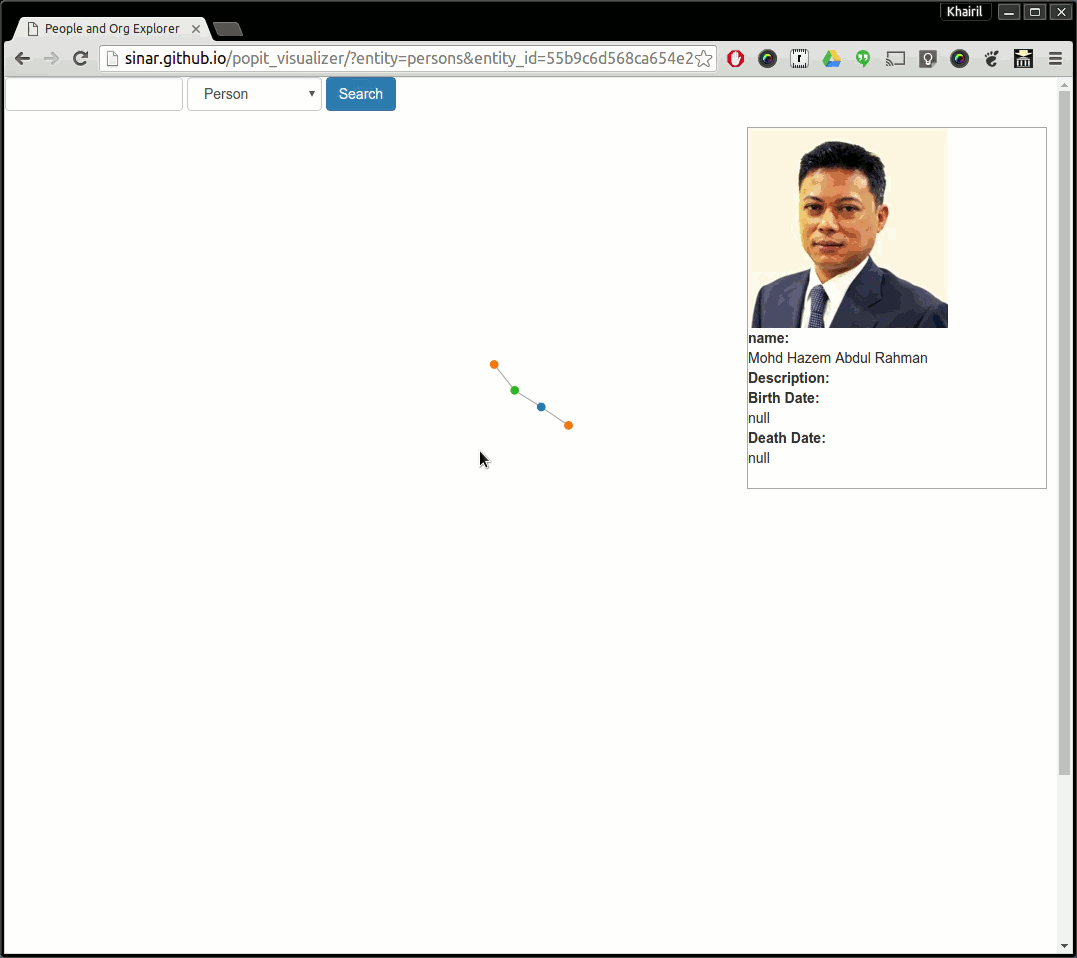 Holding them all accountable and contributing to the effort
Most of the persons involved in this may not be be held accountable for years to come, minor players may never be persecuted and continue to elude accountability and possibly continue similar practices with impunity. It is our goal to slowly capture every person, every department and institution from existing information as well as all new documents and information revealed from ongoing investigations by many parties.
If you would help to contribute research (any information helps), do join our contributing community on Facebook Groups or on Slack (email us at [email protected] for invite). This is a large task, and the funding for this work from our donors has ended and we are currently doing it voluntarily, financial contributions are also welcome to support this work.
Funding and Support
Popit Database API software development and research has been generously funded by IDRC Canada, Open Data for Development Network and World Wide Web Foundation