GE15 Candidate and Elected Representatives Website
Project to build complete general election candidate website built on Sinar Project's politically exposed persons open data database and API
In Malaysia, without the Right to Information law, Open Data, and having a non-transparent government, basic information is hard to come by, and for open data even harder.
For over 50 years of government rule, politicians and Politically Exposed Person (PEP) are entrenched in a connected system.
Valuable data in research by different organizations are often lost or not published. Never reused.
By getting or importing information from different organizations of politicians, organizations, committees, etc., and adding it into a structured flexible database based on Popolo standards which assumes imprecise and uncertain data we now have combined information as open data.
With structured data/API we can now reuse this in a variety of ways, building elected representative websites with automatically improved information, statistics, contact lists, network graphs.
For the Upcoming General Election 15 (GE15), our projects inlcude:
building a long term database of information on politicians, PEPs (Politikus)
blacklist criteria
censorship monitoring (OONI)
crowdsourcing and publication of open data pre, during and post-election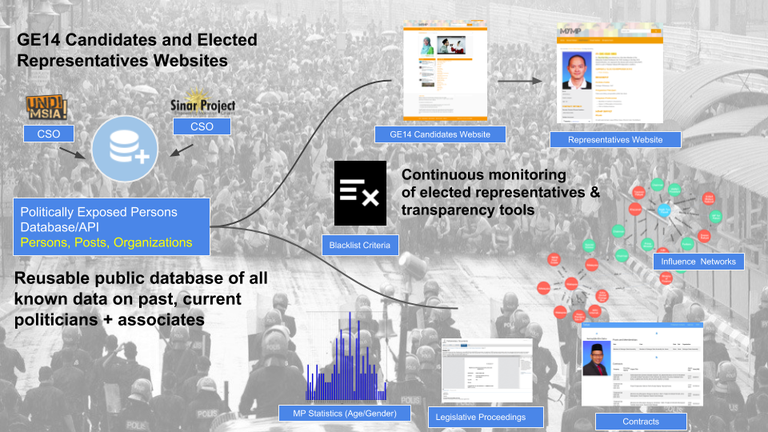 Politikus Politically Exposed Persons API/Database
Status: Stable/Online 
Politikus is a customized CMS based on Plone with add-ons and customizations to store and extract pieces of information on persons of interests, PEPs, politicians, organizations, and contracts, using open data standards. It helps make this structured data available in environments where such data is limited.
Malaysian voters will be able to see basic information on all candidates such as name, age, sex, memberships, past and current posts, as well as CVs, campaign materials, and supporting evidence for blacklist criteria (if any).
Also included in Polikus are beneficial ownership in companies and contracts awarded involving PEPs.
Deployment:
Malaysia: https://politikus.sinarproject.org 
GE15 Candidate Blacklist Criteria
Status: Final GE15 Criteria Published
GE15 Candidate Blacklist Criteria is an effort to define objective criteria to guide political parties and the public to select better quality candidates as our elected representatives. Nominated candidates that fail any of the following criteria will be added to a list of blacklisted candidates and prominently highlighted as such on Sinar Project's upcoming GE15 Candidate. The criteria used is the same in the previous election.
Older drafts:
Internet Network Interference and Censorship Monitoring
We are running daily tests on 1152 global and local websites as well as instant messaging services such as WhatsApp. These test lists include coverage of local and foreign media, political parties and civil society. 
We will also be running a campaign to increase the number of volunteer testers and coverage through the installation of OONI mobile app to help run tests on specific events during campaign and polling days.
Data collected will be published on Open Observatory for Network Interference website. The data will provide evidence on whether there are any forms of network interference or censorship.
Open Data on Candidates
Basic data in Popolo spec fields in English and Bahasa being updated by our content contributors are available here as open data:
License: Creative Commons by Attribution 4.0 (International). You are free to copy and redistribute the material in any medium or format and remix, transform, and build upon the material for any purpose, even commercially. Just attribute Sinar Project if you do use it.
How to help contribute
Funding and In-Kind Donations
Keeping Sinar Project the civic tech organization, hosted services and development and research require funding. Donating funds to Sinar helps keeps the services online, funds full-time work of existing Sinar team members, but also expands capacity by allowing us to hire and train young talent to work on modern transparency initiatives for the public good either full time or as interns.
Online Donations
Making monetary contributions to Sinar Project is easy. You can make a bank transfer or deposit to the following account:
| | |
| --- | --- |
| BANK |    Malayan Banking Berhad (Maybank) |
| SWIFT-BIC |    MBBEMYKL |
| BENEFICIARY |    Sinar Project PLT |
| ACCOUNT |    512307614259 |

Developers, Linux Sysadmins and Content Contributors
Have time and skills?
Join our Slack community where we constantly have ongoing discussions on planning and tasks while working on this project.
You may contact us at [email protected]  or 
Contact person:
Isad Chung : [email protected]