Human Rights Internet Censorship Dashboards
A project to provide an online dashboard service that shows the current and past Internet censorship state of News Media, Political Criticism, Religion, Sex Education and Social Networks for select Southeast Asian countries with censorship measurement data backed from Open Observatory for Network Interference (OONI) API.
The project will generate the dashboards based on metadata from Citizen Lab test-lists with data collected by OONI Probes.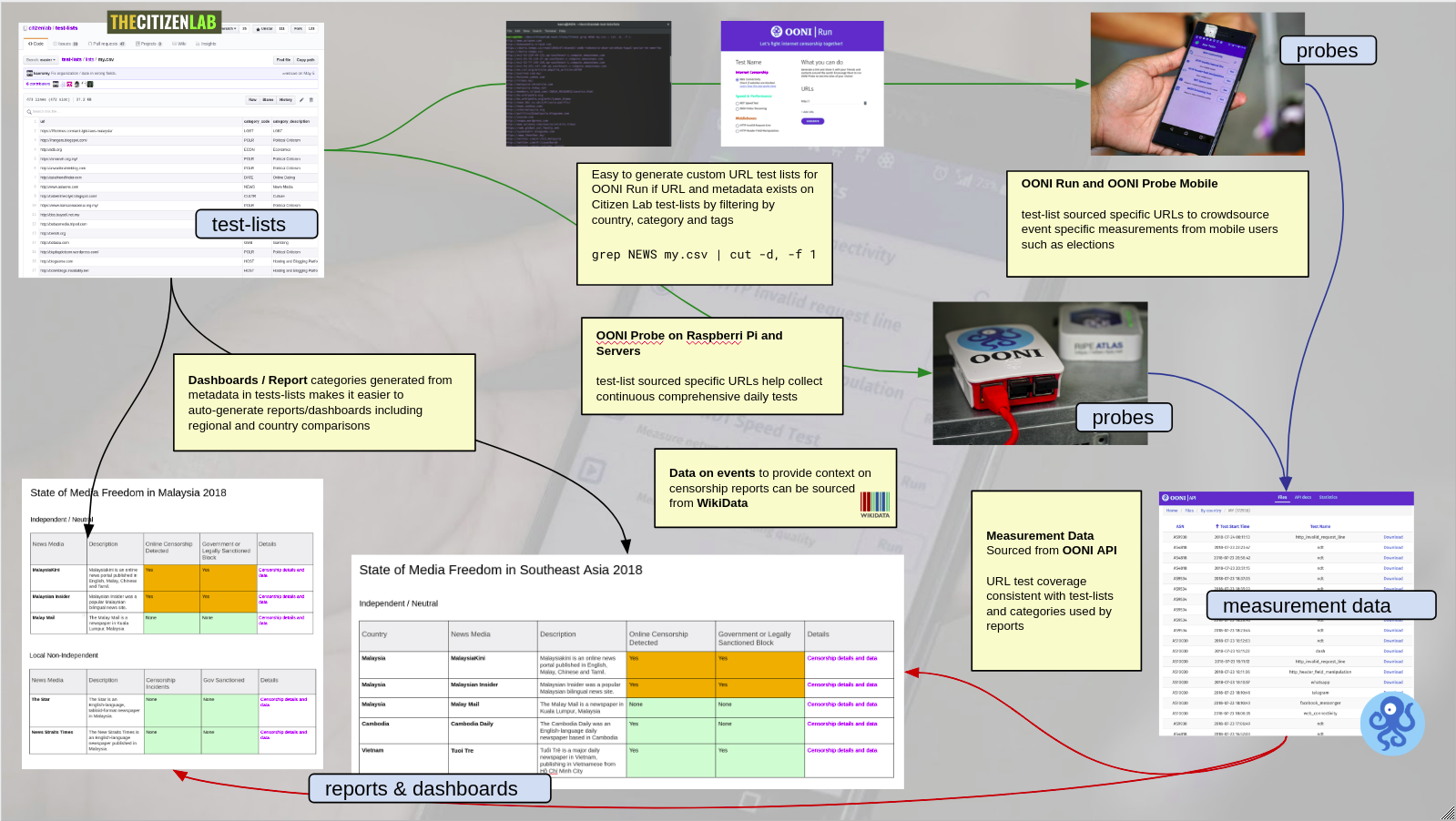 The OONI project collects and makes available detailed measure data on Internet interference, but current dashboard explorer.ooni.torproject.org is not very usable for the needs of civil society organizations, journalists, researchers and the general public.
Southeast Asia is one of the fastest growing regions in terms of Internet penetration and use, this freedom of expression in this space is also under threat, it is also a rapidly chancing environment. We have seen Cambodia revert back to authoritarian rule, and Malaysia changing governments to a progressive one supportive of freedom of expression and press. 
This project aims address this immediate need for easy to read dashboards so more users in this region such as journalists, civil society organizations and activists can easily make use of censorship measurements to support their work, and for the public to be aware of increasing Internet censorship.
Updates
How can I participate?
Researchers and Journalists
We are currently compiling and updating Citizen Lab test-lists for Southeast Asia to include comprehensive list and categorization of online news media, political criticism, LGBT, access to sex education and sites of interest to women. Groups working on other areas of human rights should also get in touch with us to see how we can help you monitor online access and censorship.
We will need your help in providing feedback on which sites to monitor, features and information that will be useful for your work. Contact us if you would like to help test and provide feedback to development versions of the site.
OONI Censorship Testers
We need help from people willing to help run tests and maintain tests-lists for different countries in Southeast Asia. Find out more on how to get involved with OONI. You can also contact us here at Sinar Project directly.
Developers
The project is hosted on github
Funding Support
This project is supported and funded by the Open Technology Fund